If you're one of the people who reads some articles or some news and suddenly some terms catch your attention and you wonder what they actually mean. I'm sure most of you would know their full forms - for those who don't we got you covered in this article. But, beyond these abbreviations what are fundamental differences between them and why are the Tech people around the world talking so much about it ? Let's get in to it then!
Virtual Reality (VR) :
Virtual Reality by its name implies an alternate scene which is similar to our surroundings but not exactly the same. Which means .. it's not "Real" ! That doesn't makes sense right ? Virtual and Reality are exactly opposites! Have a look at this video before I explain it further
As you see, it's a ride on a roller coaster , which is quite very well seen in our world , yet the ride in the video is not actually happening. It just gives you a feel of something real ! Pretty close to a video game. The interesting part is the "feel"! To watch such type of VR videos or play VR games, one requires a special headset like the one below!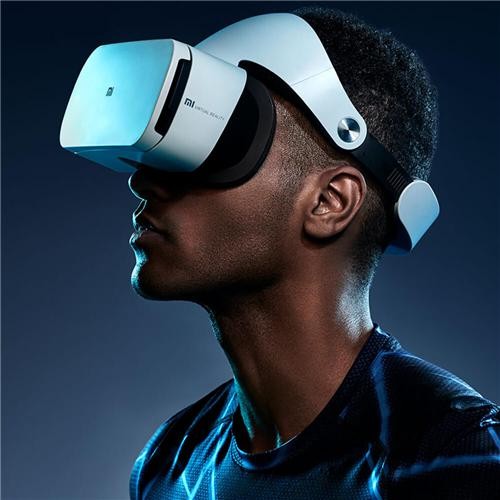 If you're wondering what is this guy watching from , there's a mobile in the front flap which is locked in. It sits exactly in front of his eyes. So, now when you wear a headset like this and start playing the video of the roller coaster, you would get a sense that you yourself are actually on the ride. So, when the roller coaster goes up and down and zig zag you would feel very much as you would in a real life roller coaster!
Hopping on to next one :
Augmented Reality (AR) :
Augmented Reality again by its name means that there's some "real" stuff and some stuff that is layered on top of this real stuff. Didn't get it ? Video is going to make things easier !


If you're smartphone supports it , try searching animals like Tiger, Lion , Elephant and it would show a link below which says view in 3D. If you can see that link, that means your smartphone supports it!

So, now you can see the difference between AR and VR! First of all you don't need special headset in AR! Your device should be powerful enough to support it ! That's it! And most of the smartphones shipping from 2019 onwards do support it! Now, what AR does is in the frame of your camera it can present you things that look as if they are actually in that frame! Like in the video, you could see all sorts of animals in the frame of the camera that was viewing this entire scene. Again, these animals aren't really there in the zoo but because they are seen in that frame, we feel that they are in face roaming around freely. This is what Augmented Reality does, it takes a frame of "reality" and puts another frame of creative stuff on top of this "reality" frame. And it does so in real time! Meaning if you move around the camera, the images would move along with it. So, we have the moving objects in the frame which establishes video part and the audio goes hand in hand with the video part.
Mixed Reality (MR):
Mixed Reality is when you mix virtual stuff and the real environment to generate new scene altogether. What do we mean that ! This is another video that will explain what I mean!
As you see, in the shopping use case, the real stuff is the person who wants to try out different shirts and trousers and also the clothes are real. Now, the virtual part is when we see a 3D image of him in different colors of shirts and trousers. That's "mixing" the real human with real clothes in a virtual scene where you can visualize him in different types of clothes. This again requires a headset though! You can think of mixed reality as kind of combination between AR and VR. The MR doesn't really require a headset - it's not part of the definition! Holograms can also be a great example of MR. Microsoft Hololens is a project aimed at this very thing. They call it as "holoportation" !
Covering the last "R" is the XR - XR is actually just stands as super set of all the above. The "X" stands for any variables - A,V or M. So, when people talk about XR , they are talking about all of the above use cases in general.
I hope after reading this, you have much better understanding of what each of these "reality"s mean and you can actually have better conversations with others now. If you feel this was indeed something resourceful to you, do share it along with others!

Until then, Stay Safe!
Other Interesting Posts you may want to browse through !:)